Nicholas Bussmann & Cottbusser Chor – foreshadowings / Vorahnungen
as part of reEDOcate me ! ein postfossiler Themenpark at Floating University Berlin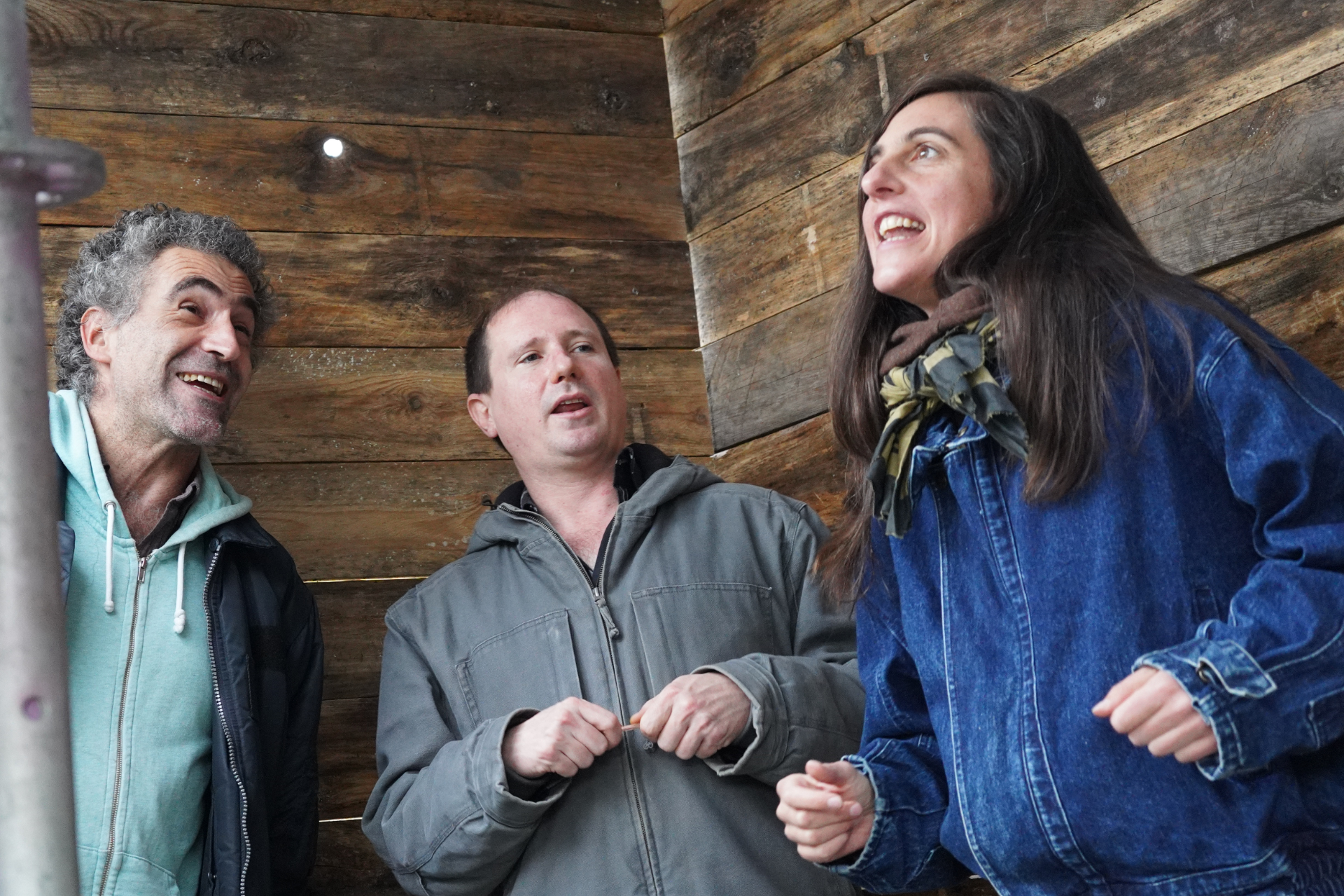 It has been 50 years since the Club of Rome report highlighted the limits to growth. Since then, the word has spread: We have now understood that things cannot go on like this. But why do we understand, but do not learn? Hence, we now try it the other way round: We learn without understanding. The Cottbus choir will learn Japanese poems from the Edo period in Japan for ReEdoCation phonetically, without understanding them and transform them into songs. We are developing a small cultural technique for this, which may be useful in the future. We are happy to share this cultural technique with anyone who is interested.


うまさうな 雪がふうはり ふわりかな


寒念仏 さては貴殿で ありしよな


これがまあ 終のすみかか 雪五尺


雪国の 雪もちよぼちよぼ 残りけり


雪とけて 町一ぱいの 子どもかな


春風や 牛に引かれて 善光寺


傘に べたりとつきし 桜かな


竹にいざ 梅にいざとや 親雀


すずめの子 そこのけそこのけ お馬が通る

やせ蛙 負けるな一茶 これにあり


悠然と して山を見る 蛙かな


やれ打つな はえが手をする 足をする


あさら井や 小魚と遊ぶ 心太


朝顔や 人の顔には そつがある


開帳に 逢ふや雀も おや子連れ


あまり鳴いて 石になるなよ 猫の恋


蚊一つの 一日さはぐ 枕哉


昼の蚊や だまりこくつて 後から
The Oral Archive of
The Future Dead

an Installation by Nicholas Bussmann
in commission of the
Jut Art Museum Taipei
for the group show: 《LIVES: Life, Survival, Living









LIVES: Life, Survival, Living
curated by: Escher Tsai, Amy Cheng

Artists:



ividual inc. /
SUPERFLEX (Denmark)
Nicholas Bussmann (Germany)
Lynn Hershman Leeson (U.S.A)
Joyce Ho (Taiwan)
Ed Atkins (U.K)
Sheryl Cheung (Taiwan)
Charlotte Jarvis (U.K)
Bo Zheng (China)
Peter Sasowsky (U.S.A)
Tim Wei (Taiwan)
Kuang-Yi Ku (Taiwan)


opening 19.March 2022
till July 31st 2022



Hopscotch Singing Room
Nicholas Bussmann Instructions
LP: Revolution Songs in an AI Environment & The News Trilogy
Hopscotch Reading Room
Kurfürstenstr.14b
Tuesday 14.6.2022 19:00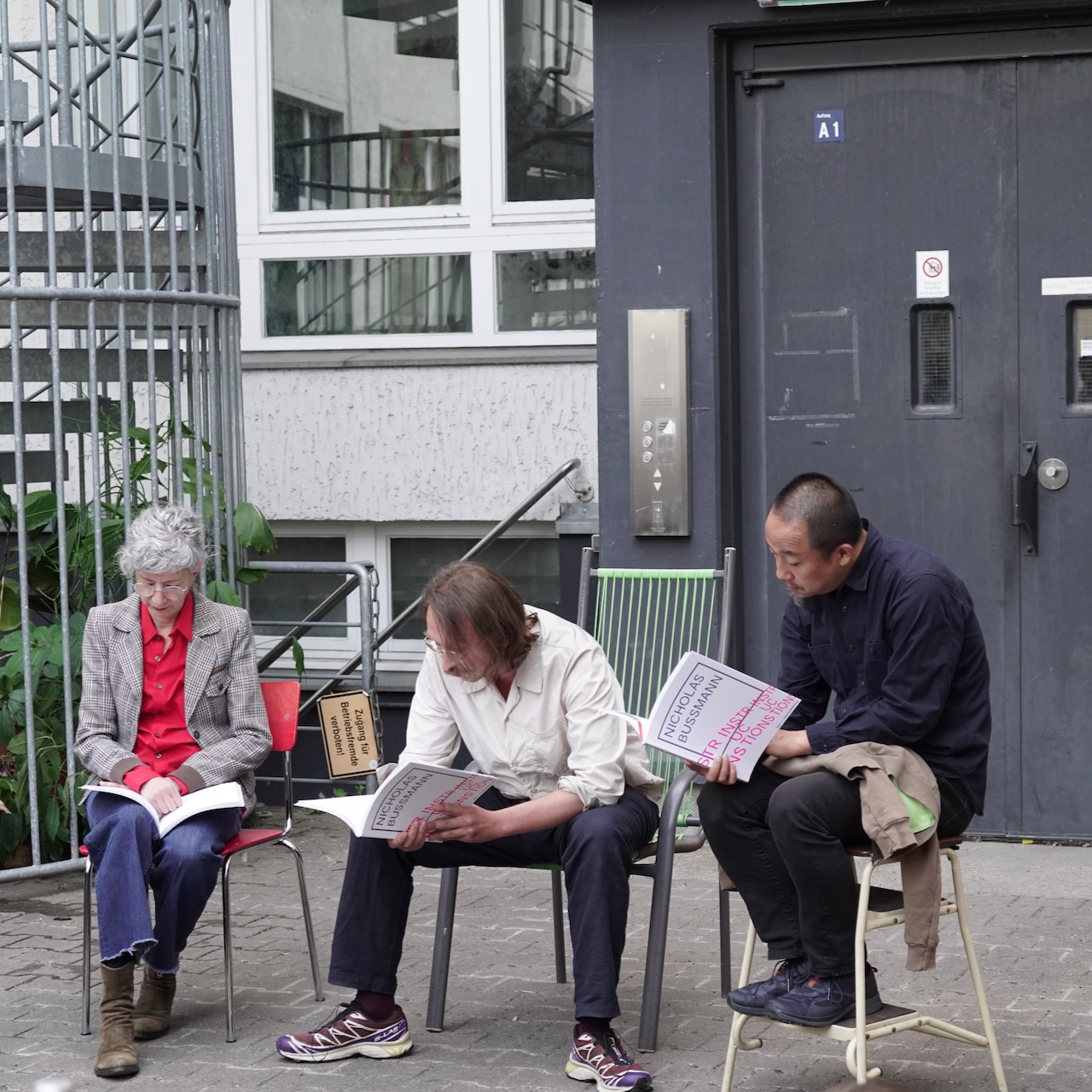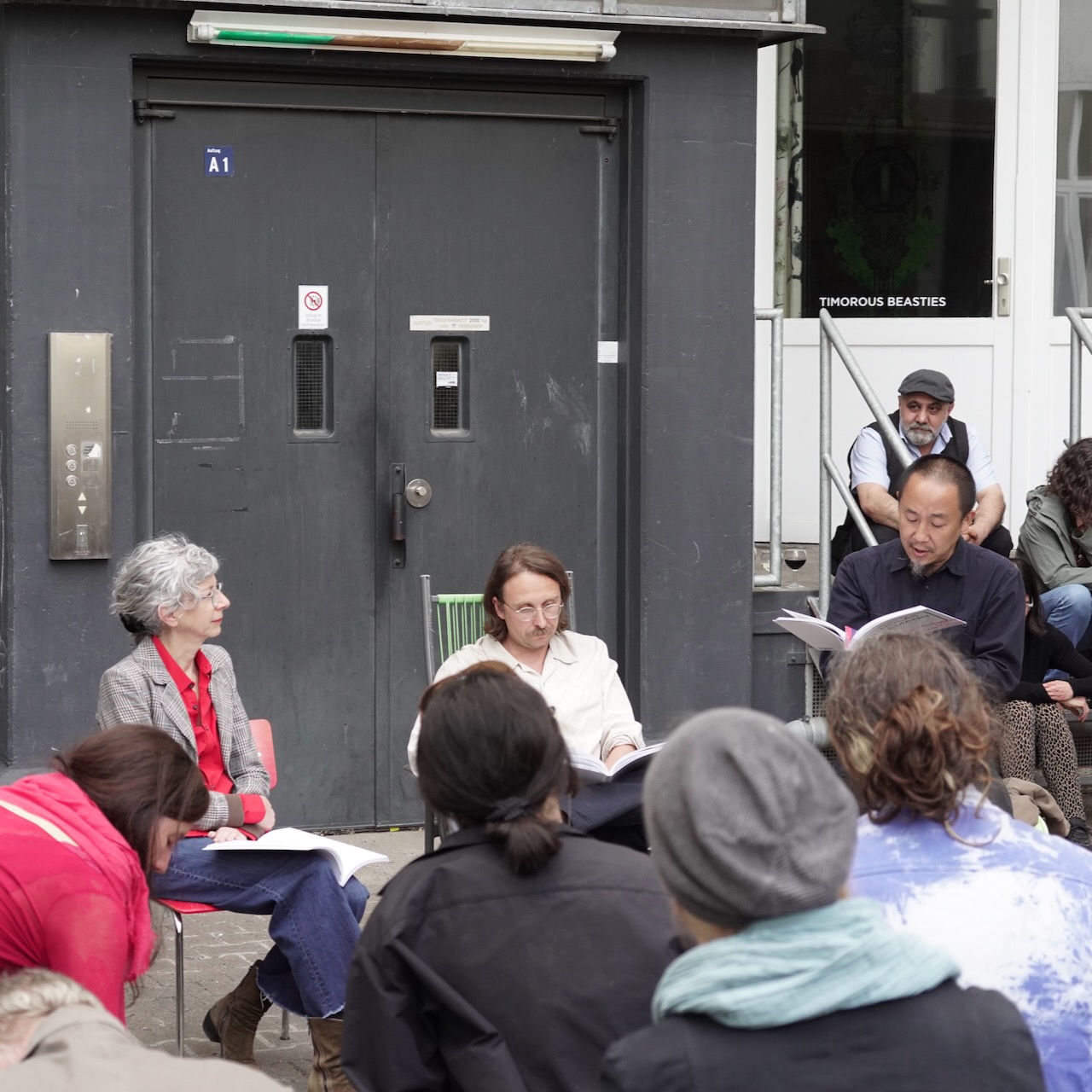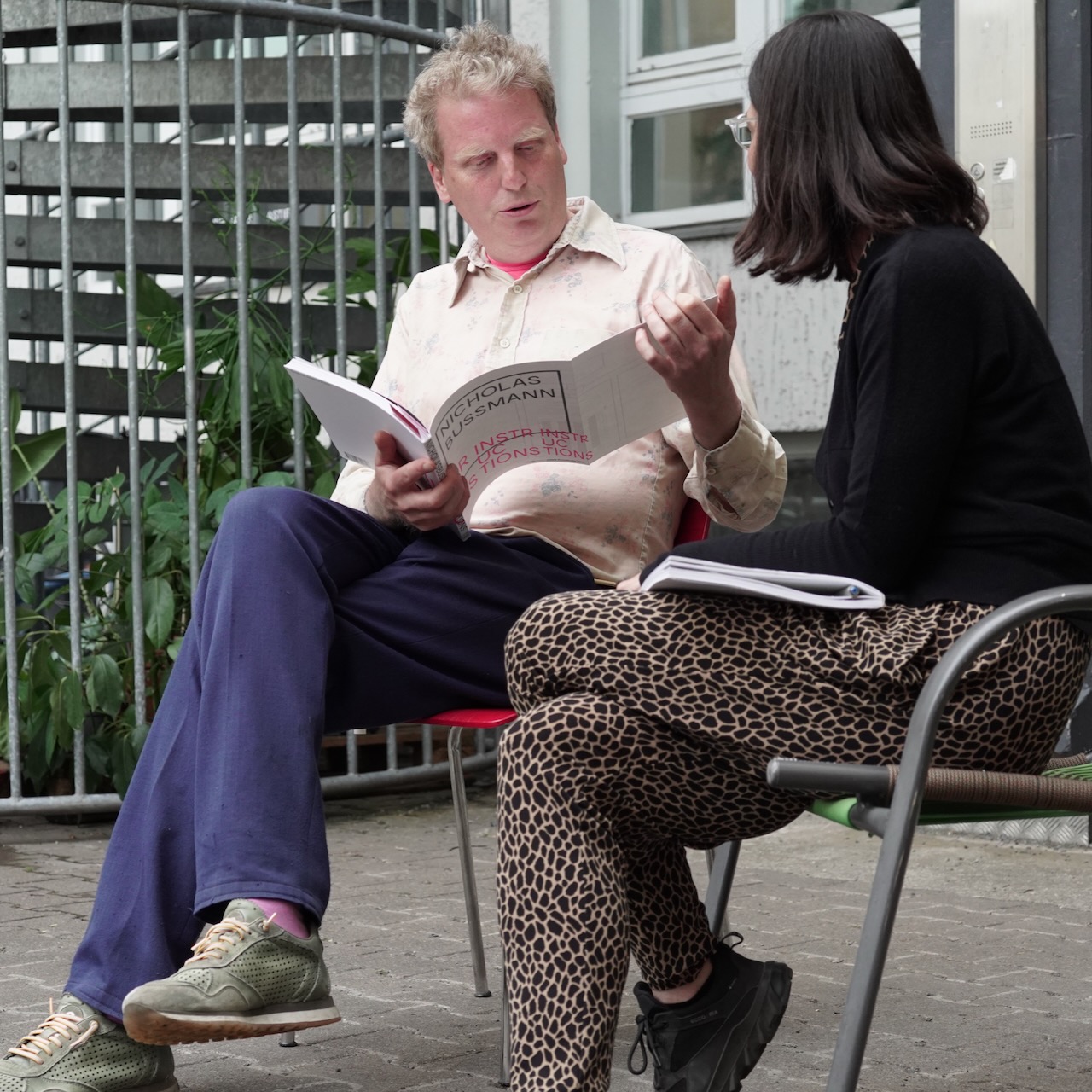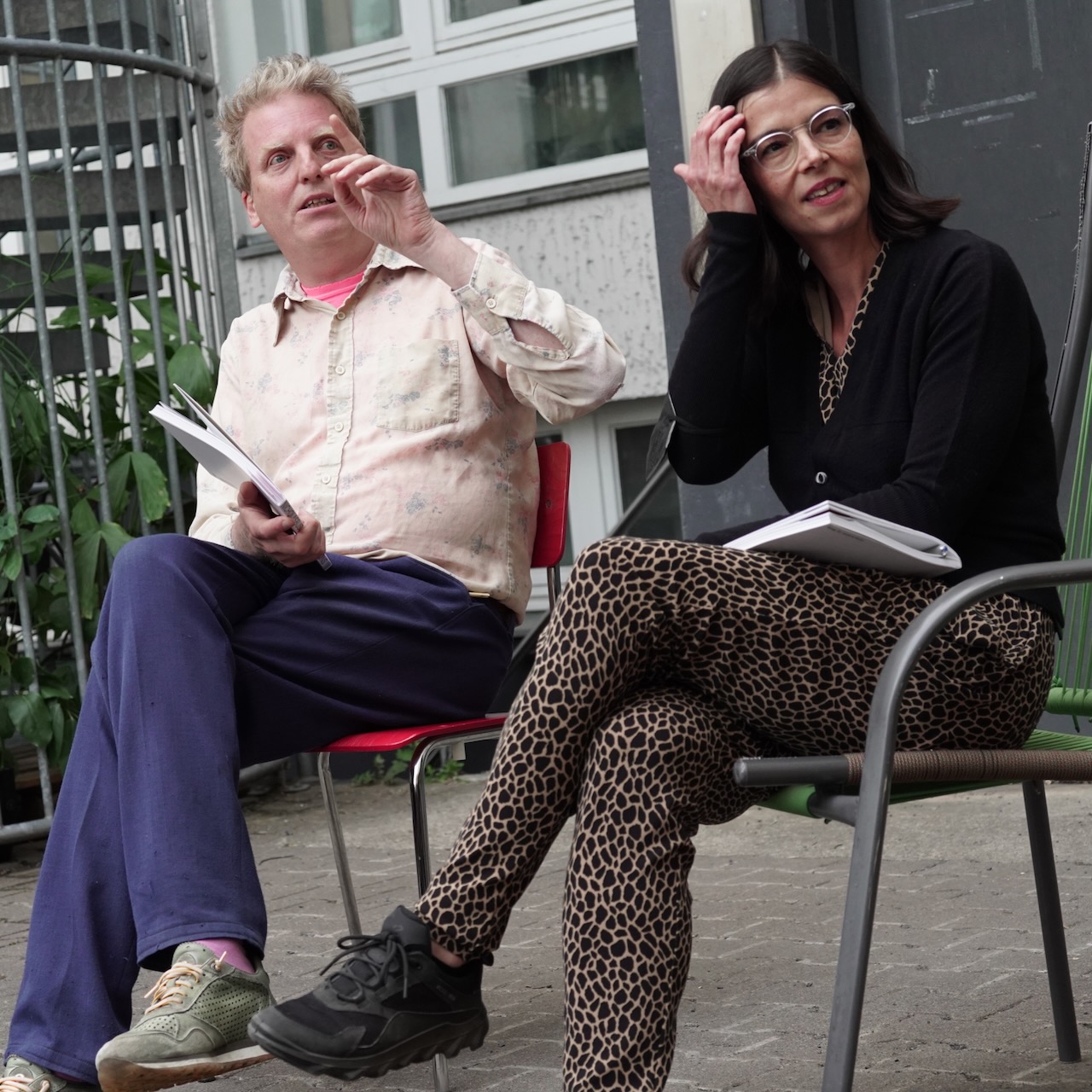 with readings from the speaking in tongues translation project by Yan Jun (Chinese)>,
Franz Friedrich (German)>> and Lindy Annis (English)>>>.

also you will hear yet unheard songs by Cottbusser Chor



Nina Tabassomi & Nicholas Bussmann will give a brief introduction to the concept of the book and it's development.
Hopscotch Reading Room
Kurfürstenstraße 14b
Hinterhof (Parterre, rechts)
10785 Berlin
Instruction: Speaking in tongues

7 writers were asked to contribute texts to this book.
They were told that their text would undergo 2 stages of translation:

From Chinese to German to English or From German to Chinese to English or From English to Chinese to German or From German to English to Chinese or From English to German to Chinese.

7 writers were asked to translate the texts.
7 writers were asked to translate the translations.

All translators were asked to treat the text as they like: From a literal translation to a fundamental transformation. The generations are marked by signs:

>
>>
>>>






contributors to speaking on tongues are:
Vinit Agarwal, Lindy Annis, Garnette Cadogan, Philippe Cerf 曾德源 (jee chan). 張允菡 (Yun-han Chang),陳若馨 (Jo-hsin Chen) , 周安曼 (Freya Chou), 黨國冤魂零零柒 (Communist Lost Soul Capital O), Damien Desamory, Franz Friedrich, Michael Guggenheim, Karin Harrasser Stefan Heidenreich, Hannah Hurtzig,. 颜峻 (Yan Jun), Alexander Klose, NaP, Natascha Sadr Haghighian, Els Silvrants-Barclay, Tim Tetzner






Published at: Verlag für Moderne Kunst & Taxispalais Kunsthalle Tirol

The LP is released on T–p records Austria & Subjam Records China

supported: by Senatsverwaltung für Kultur und Europa Berlin

Wandering Dunes

an installation – a performance – a game



an ongoing project with iterations at Taxispalais Innsbruck, Museu Serralves & HKW Berlin so far.




Wandering Dunes Instructions

Game by Nicholas Bussmann & Michael Guggenheim

Preparation:

Select three game leaders who come from different professional backgrounds.

Select seven singers who speak seven different languages and come from diverse singing traditions.

Select three musicians who refer to a nomadic tradition.

Installation:

1 big room with multiple entrances

3 sandbox tables

3 egg timers

1 collection of small objects found in the same city as the venue to be used as props

1 table with a black velvet surface for the props

1 set of voucher cards for each player

2 handfuls of joker cards

Performance:

The seven singers move around the venue as a group, going in and out

of the room and venue, periodically stopping to sing The News Trilogy.

The musicians are free to move independently in, out, and around the venue.

The musicians may play alone or together, whenever and whatever they want to play.

Game:

The game is an offer to the visiting public.

The game is called BUILD A WORLD.

The game is played in a sandbox.

Multiple games may be played simultaneously.

The game has two phases: first to build the world, and then to change it.

The game operates on two levels: the physical action in the sand, and the dialog between the player and game leader.

The game's rules may be changed or ignored at any time.
Wandering Dunes 001
Taxispalais Kunsthalle Tirol
2018

photos: Guenter Kresser
card set for Wandering Dunes Domestic Edition during to play at home in Beijing during first lockdown 2020. In collaboration with Jan Yun


Rudi Katholnig
Sifa Girinci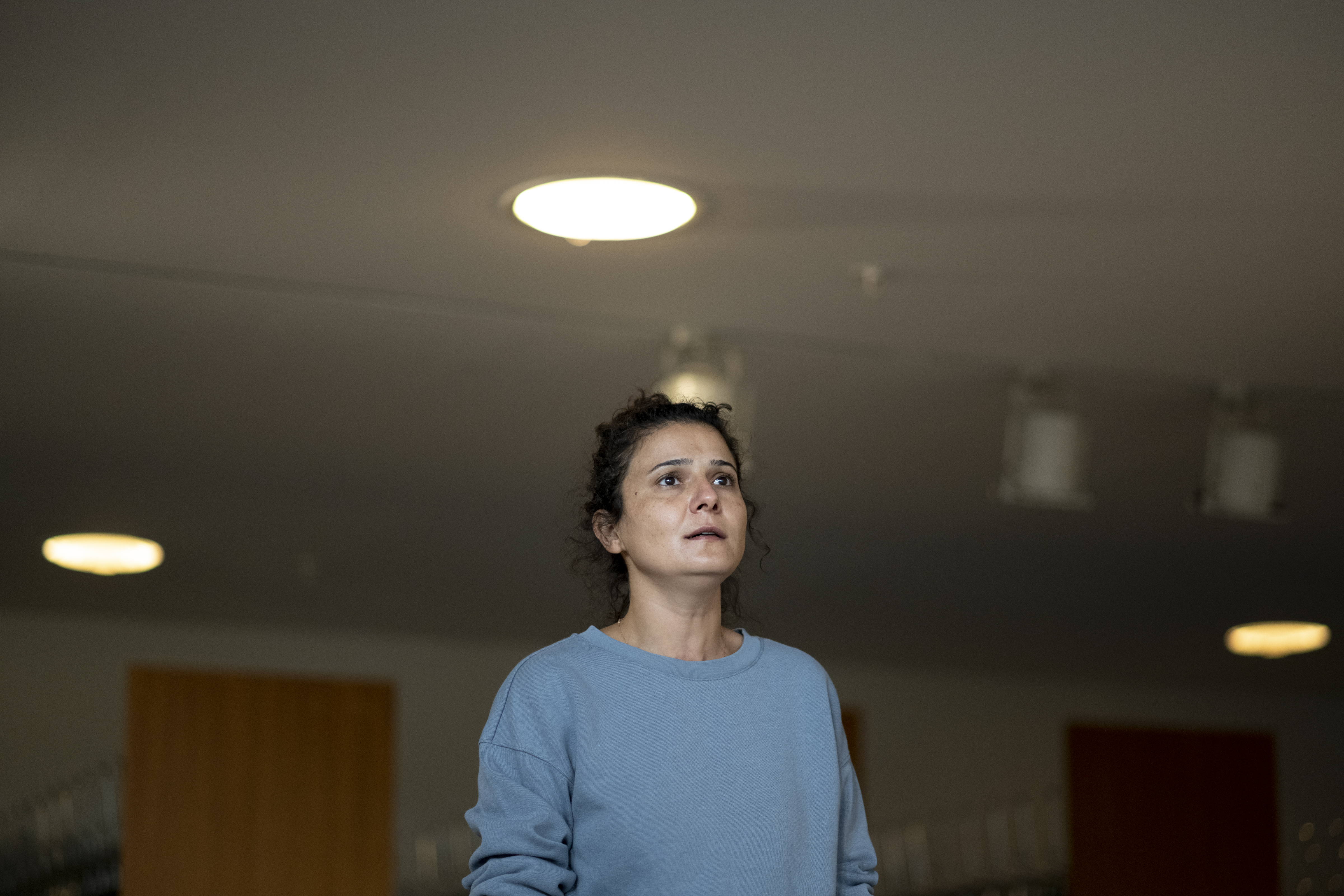 Konstantin Schimanowski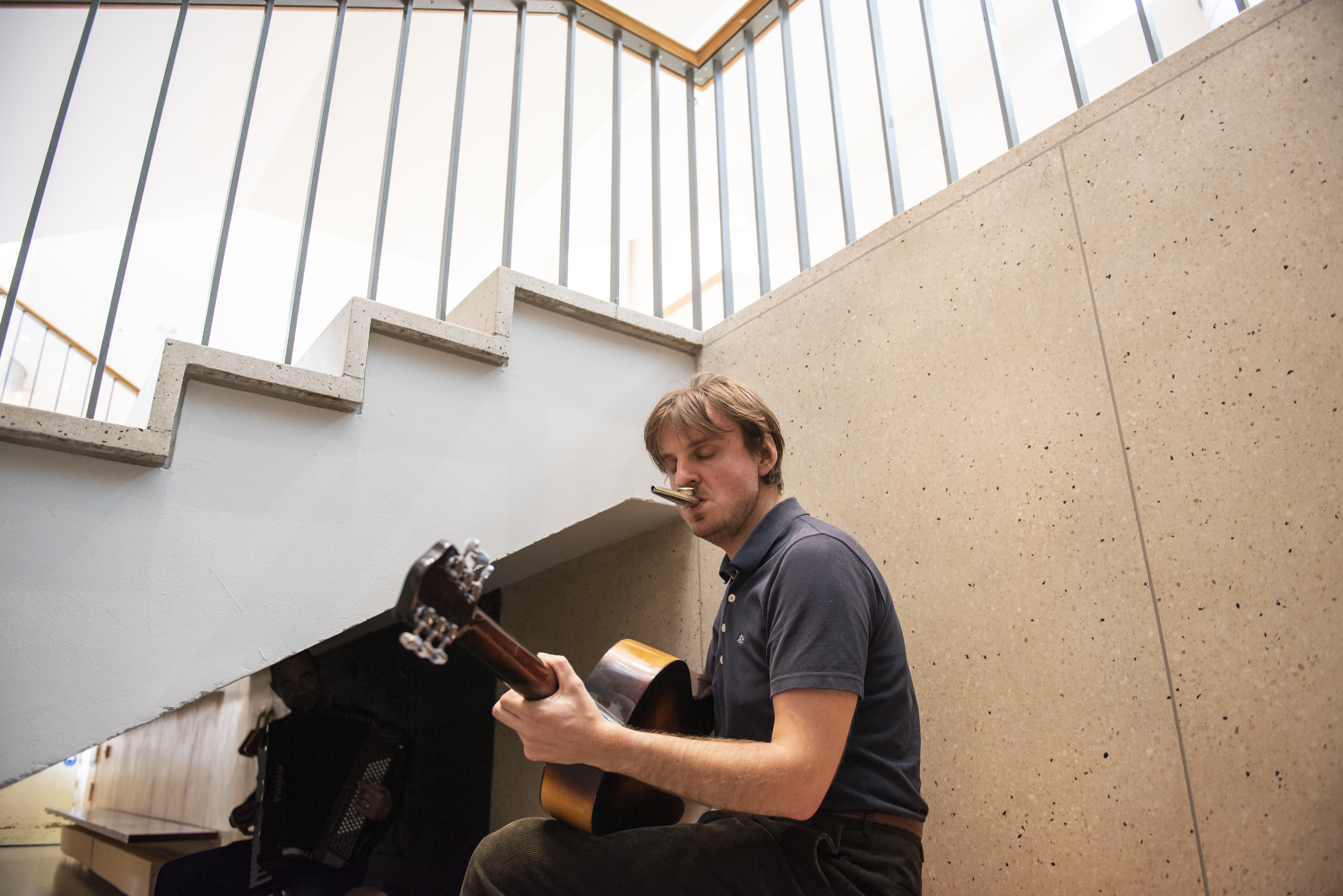 The Cottbusser Cor at Wandering Dunes 003 Berlin
Wanderings Dunes crew:

Wandering Dunes 001 Taxispalais Innsbruck 2018

Helga Utz
Michael Guggenheim
Philippe Cerf
Simone Schönett
Rudi Katholnig
Konstantin Schimanowski
Lucile Desamory
Yusuf Ergün
Laura Mello
Rico Repotente
Margareth Kammerer
Eduard Mont de Palol
Aaron Snyder
Wandering Dunes 002 Museu Serralves Porto 2018
Helga Utz
Michael Guggenheim
André Alves
Rudi Katholnig
Konstantin Schimanowski
Leonor Narcisso
Lucile Desamory
Yusuf Ergün
Laura Mello
Rico Repotente
Margareth Kammerer
Eduard Mont de Palol
Aaron Snyder
Wandering Dunes 003 HKW Berlin
Helga Utz
Michael Guggenheim
André Alves
Meret Weber
Florina Speth
Franz Friedrich
Sina Ahmadi
Valeria Gordeew
Rudi Katholnig
Konstantin Schimanowski
Leonor Narcisso
Şifa Girinci
Lucile Desamory
Yusuf Ergün
Laura Mello
Rico Repotente
Margareth Kammerer
Eduard Mont de Palol
Aaron Snyder
Cottbusser Chor





















Lucile Desamory
Yusuf Ergün
Margareth Kammer
Laura Mello
Eduard Mont de Palol
Rico Repotente
Aaron Snyder
The Cottbusser Chor a small, diverse vocal ensemble, has been in existence since the beginning of 2014. The singers of the ensemble speak 13 languages and come from different musical contexts. The algorithm-based compositions in which the choir specializes preserve this diversity. - It is precisely this audibility of languages, gestures, accents and accentuations that is the choir's strength. Since its foundation with the premiere of "The News Blues", the choir has given concerts at Maerzmusik Berlin 2016, Hangar Bicocca Milan 2016, for documenta14 Radio 2017, among others. "The News Blues" became "The News Trilogy" with further parts "Major News / Minor News" and "Secret News" . We blew up the choir to a band: "Kopiergruppe" is a musical neighbourhood project at SAVVY Contemporary & Zeitzone in 2019, an open structure to process musical donations. In the run-up to the concerts we asked pedestrians for musical donations, This little recordings were being copied by the choir The copies of the donations were meshed into a medley during the show. The choir plays also an important role for the Wandering Dunes as a performance. The choir took part of all three iterations in Innsbruck, Porto & Berlin

.The choir was also involved in three film scores for "Miete essen Seele auf" by Angelika Levi Arte 2016 Weitermachen Sanssouci by Max Linz / Berlinale 2018. and the upcoming film by Max Linz.
T–p records / Austria & Subjam / China have released an album Digital and on Vinyl on bandcamp
Kopiergruppe
2019 Savvy Contemporary Berlin-Wedding
Galerie Zeitzone Berlin-Kreuzberg
The News Trilogy
between 2014 and 2017 Nicholas Bussmann and the Cottbusser Chor developed algorithms how to sing the news. These algorithms where bundled in The News Trilogy. The News Trilogy was first performed for documenta 14 radio SAVVY Funk at Savvy Contemporary.
I The News Blues
II Major News / Minor News
III Secret News


Cottbusser Chor The News Trilogy as part of Wandering Dunes at HKW Berlin 2021